How Does It Work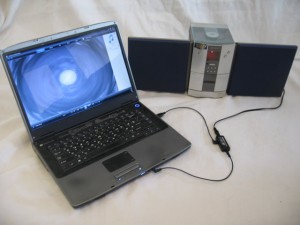 Most MP3 audio sources such as portable music players, smart phones, laptop computers, have only a headphone output for listening to sound, music or speech. Headphone outputs are designed to drive low impedance headphones typically 16 to 32 ohms. But when you want to listen to your MP3 player through a Stereo System, you may notice the need to turn up the volume on both your MP3 source and your music system. You may also notice the quality of sound is not as good as you would expect.
An impedance mismatch occurs whenever you connect a headphone output to a line input. This causes lower signal output requiring you to increase the gain on your MP3 player as well as your stereo system. An impedance mismatch also introduces distortion and reduces the transient response seriously reducing the quality of sound.
The solution: The  G-Rod MP3 Audio Cable MicroAmp. It is a serious High Quality Audio Preamplifier with a Headphone output to Aux.
At the heart of the system, the  G-Rod MP3 Audio Cable MicroAmp uses a top quality Texas Instruments audio op-amp with circuitry designed to match the impedances for coupling your MP3 headphone output jack to a line input jack(s) on your high quality audio system, plus it adds additional gain so you reduce the volume on you MP3 source as well as on your stereo system.
The quality of the sound from an audio preamplifier is only as the quality of the power supply used in applying power to the preamp. Noisy or weak supplies seriously degrade the quality of the audio signal when amplifying low level signals. G-Rod MP3 Audio MicroAmp  utilizes a top quality power supply design to insure low noise and instant transient response revealing sound you didn't realize your system was capable of.
The G-Rod MP3 Audio Cable MicroAmp with its impedance matching design, gain, and high quality components, will improve the sound of any system you connect your MP3 player into.
"The MicroAmp arrived today. I have installed it in my application and it works as advertised.

I have a 2002 Corvette, which has no factory installed external input to the radio/CD player. I installed an aftermarket device behind the dash which interfaces with the factory head unit through in input that was originally designed to interface with a 6-CD changer that was an option. Basically then, the mp3 player is acting as the CD changer.

I am using a Sansa Clip Zip player and it always had to be at maximum volume and the car's amp had to have the volume turned up quite high to get a satisfactory output. Using the MicroAmp, I am able to balance the mp3 player with the AMFM and the in dash CD player so they all produce the same sound output at the same volume control setting (which was my goal in the first place). The Sansa is running at about 1/2 volume to achieve this result. The sound seems much improved at this level.

In all, I am very happy with your product and would recommend it to others.

In addition, I have used the amp in my Chrysler Pacifica and it is ideal in that application as well. The 2004 Pacifica has a 6 disc changer with an "AV" input. Using the amp along with a mini stereo to RCA cable, I can play any of my mp3 players in the car.  Bottom line — I'm very happy with the unit and would recommend it to anyone. " – Richard M.